Let's check out a noteworthy shift in the global tech landscape; Hungary's emerging stature as a preferred center for software development. It's a development sparked not just by the country's burgeoning tech talent, but by a thriving IT scene that's rapidly advancing on the global stage.
The Rising Star of the Hungarian IT Sector
When we say Hungary is a rising star in the tech world, we aren't just throwing around buzzwords. Over the past few years, Hungary has truly established itself as a global contender in the field of information technology. What was once a less-trodden path is now a buzzing highway of IT innovation and achievement, putting Hungary firmly on the map.
The country's tech workforce is well-versed in modern technologies and has a strong grip on the current digital trends. From utilizing the newest programming languages to deploying the most innovative tech strategies, Hungarian IT professionals have consistently demonstrated their capability to deliver projects that meet international standards.
The result? A thriving tech hub that is not only keeping pace with more established IT centers but is setting new benchmarks in several areas.
Benefits of Partnership with Hungarian IT Companies & Professionals
When you collaborate with Hungarian tech companies, you're unlocking several key benefits:
Extensive Development Knowledge and Experience
Hungarian developers aren't just tech-savvy – they're tech experts. From AI and machine learning to cloud computing, you name it, they've worked on it. And they don't just meet expectations, they exceed them.
Excellent Command of English
Language barrier? What's that? The commendable proficiency in English among Hungarian IT professionals ensures clear and efficient communication, which is crucial in project development and management.
Availability and Accessibility
With a thriving market teeming with IT professionals, finding the right expertise in Hungary is easier than finding a needle in a haystack. Plus, for partners in Europe and North America, the favorable time zone means the team is always just a call or email away.
Competitive Pricing
Let's not beat around the bush – everyone loves value for money. And that's exactly what you get with Hungarian IT professionals: top-notch quality at competitive rates.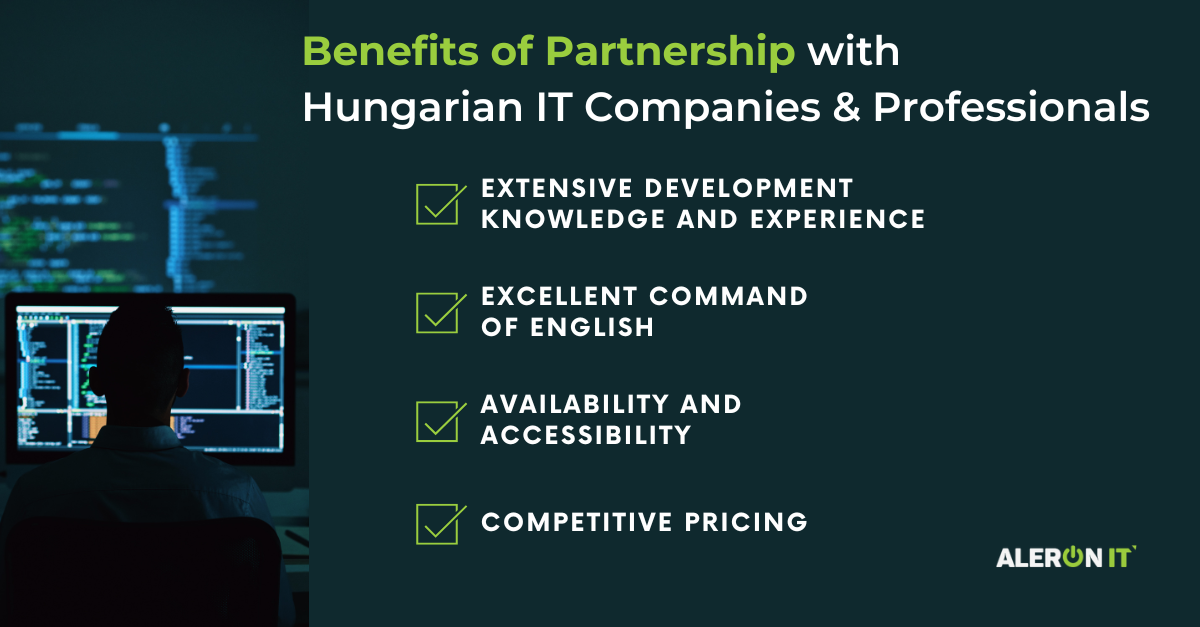 A Great Place to Outsource Software Development
Owing to Hungary's strategic position at the center of Europe, it makes doing business remarkably accessible.
This advantageous location, combined with Hungary's integration with the European Union's common market, ensures smooth and streamlined business processes. The time zone compatibility with most European countries and the easy access to broader markets contribute to an almost neighborly feeling.
It's not just about geographical proximity; it's about the ease of integration, the shared cultural aspects, and the familiarity of doing business that truly makes collaborating with Hungarian tech teams feel like working with your next-door neighbors!
Hungarian IT Professionalism in Action
But don't just take our word for it. Let's delve into a case study of a project that we had the opportunity to work on:
Our challenge was to develop a web application for a large corporate customer with a massive data set, which had to be accessible 24/7 for multiple parallel operations. And guess what? We pulled it off with zero downtime!
Before diving into the design, we joined hands with the client-side experts to ensure seamless integration. We also acquired anonymized data sets from the client for effective testing down the line.
We kicked things off with a prototype, incorporating a proof-of-concept solution for frontend-microservice communication, authentication, and CD/CI processes. Following this, our team utilized the Scrum methodology and expanded the functions in two-week sprints.
To meet the demand for zero downtime, we implemented a clustered hosting solution and load balancer. And thanks to the microservice architecture we used, future scalability will be as easy as adding more pods to handle additional requests.
Conclusion
So, there you have it. If you're looking for top-quality software development services that offer value for money and a smooth collaboration experience, look no further than Hungarian IT professionals.
Thinking about getting started on a project? Don't hesitate to reach out to us. We're here to answer your questions or help kick-start your software development journey. Let's get started!
If you would like to be informed about our opportunities in time, follow us on LinkedIn!